1
How to use our extension
Breakout Rooms for Google Meet
Welcome to Breakout Rooms for Google Meet
---
Thank you for installing and using our extension
---
Features:
✔️ Count number & names of attendees for Google Meet Call
✔️ Randomize persons to create separate groups!
✔️ Based on these randomized groups, create breakout rooms and groups for them!
Tutorial:
Install the Extension
After installing the extension, click on the icon on the toolbar.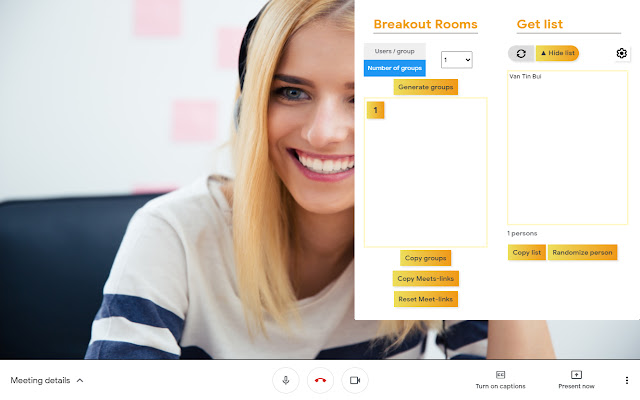 ---
Want to create small groups when you're inside a Google Meet meeting?
Are you having trouble/issues trying to split up a large group of people who are in your Google Meet calls and hangouts meet?
Breakout rooms are sub rooms that can be created within a meeting or training session.
They are useful for splitting a large group into smaller groups that can talk or collaborate.
Breakout rooms can be used in google hangouts meet meetings and training sessions which have over 20 individuals.
Use this software extension to create breakout rooms in Google Chrome now.